About Us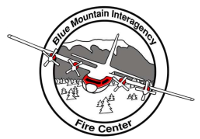 The Blue Mountian Interagency Dispatch Center (BMIDC) provides initial attack dispatching and logistical support for emergency response to wildland fire and all-risk incidents. We provide these services for the Umatilla National Forest, Wallowa Whitman National Forest, Oregon Department of Forestry - Northeast Oregon District, and Washington Department of Natural Resources -Southeast Region.
We also have protection agreements and provide services to the Bureau of Land Management - Vale District, Payette National Forest, Nez Perce National Forest and the Bureau of Indian Affairs. We work closely with local cooperating emergency service agencies. We also provide logistical support for national level response of resources working with NWCC and NICC.
The La Grande Air Tanker Base is one of six air tanker bases in the Pacific Northwest Region. Air tankers are a national resource; they are available to support firefighting efforts nationwide. These aircraft are under contract to the government from privately owned aviation companies.
The La Grande Fire cache provides supplies and equipment to fire fighters throughout Oregon and Washington.
Photo credit: Marc Shandro